Metal Tile Coating
metal tile coating Roof systems, which can be applied with many metal materials, provide designers with a light, modern and long-lasting roof system.
Metal roof trapeze applications made of painted sheet and galvanized sheet have different application techniques.
Metal Roofing
metal roofing Metal roof coatings are one of the best examples of systems that are long-lasting, detailed in such a way that they do not absorb water, that allow expansion, and well-planned water evacuation.
Applicable to a roof slope of at least %5, clamp system coatings help design lightweight roofs that are less affected by the wind. Clamp systems, which can be applied as classical clamp and double clamp systems, allow one-piece assembly of long roof sheets.
Special machinery, equipment and hand tools are used in the application phase of systems with all kinds of details and combinations.
Metal Clamp Systems
Metal Clamp systemsIt consists of a combination of boards with 25 mm pitch height, average 400-500 mm width, using the least material waste.
With concealed retaining clips, it is fixed and slidably mounted and allows expansion.
In metal roof manufacturing, different models such as metal shingle consisting of small square plates, plug-in flat plates and stepped step system can also be applied.
Different systems are selected according to roof slope, roof form and sheet lengths. Metal roofs are suitable for all kinds of accessory mounting.
It can be used on curvilinear vault roofs, dome coverings and can also be walked on after application (depending on the roof slope). 
Generally used metal thicknesses are between 0.45 mm sheet and 0.80 mm sheet metal.
Metal Roofing Weights
Metal Roofing weights Roof profiles, which are produced from painted galvanized sheet materials without any longitudinal joints, are included under the roof of project design and application with the support of heat-sound and fire insulation.
Painted galvanized sheet metal clamp plates are new generation roofing products that can be produced with machines at the construction site without any length limitation, and offer trouble-free solutions, especially on detailed and low-sloped roofs.
According to the project specifications, production is available in different cross-sections between 325-525 mm.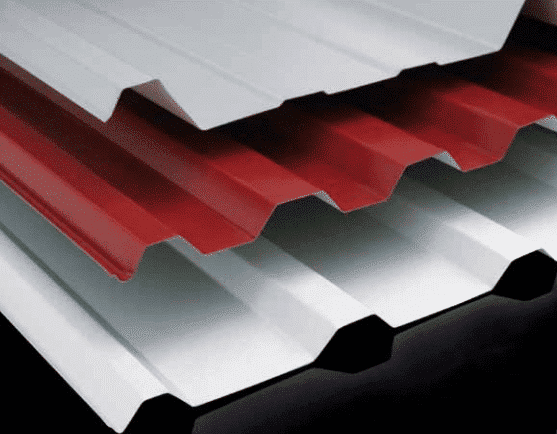 Metal Roofing Usage areas
On low slope roof coverings
In circular and vaulted roof coverings
In all residences, social facilities and industrial facilities
Metal Roofing Usage Advantages
On a project basis, length shooting can be done at the construction site.
There is heat-sound-water-fire insulation in the system.
It allows the roof to breathe by balancing the steam and moisture transfer on the roofs.
Metal Roofing PPGI use
There is a phosphate layer on the 125 – 120 gr/m2 hot-dip galvanized sheet. On this layer, there is a 25 micron thick polyester paint covered with 2 layers of dry protective film and a protective polyethylene film on it.
A waterproof, impact resistant, maintenance-free, long-lasting and recyclable roof/facade, which is passed through the form line from a painted galvanized roll, manufactured in the desired length according to the application area, attached to the roof infrastructure with hidden clips and assembled by clamping the edges with machinery or hand tools. is the material.
Pan Width:

320mm, 420mm, 520mm

Sheet Thickness:

0.60mm – 0.80mm – 1.00mm

Pan Length:

Desired Length

Colour:

In the desired ral code
The fact that the elements that make up the roof construction materials are fabricated provides full confidence and keeps the roof quality at the highest level thanks to the protective materials used.
The steel roof does not add additional weight to the specific weight of the structure and provides permanence in possible natural disasters.
It does not have any sanctioning effects on loss of life, and ensures the preservation of the integrity of the building by showing high resistance.